Charitable Organization Mode
During the first phase, ANAND Welfare Centres undertook one-time charitable activities such as plantation, blanket distribution, blood donation, construction of drinking water stands, etc. The programmatic approach of addressing developmental issues defines the foundation's functioning.
During the early 1990s; two key projects in health and skill development for youth were launched and thus began the starting point for this new journey.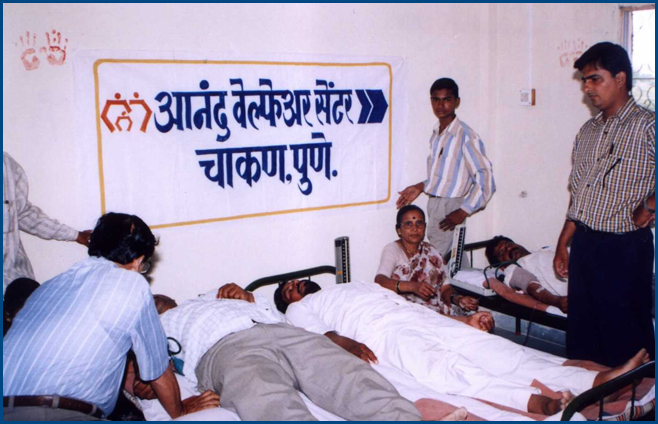 1976:
Nischal Foundation was founded by late Mr. Jagdish Anand.
1978 - 1990:
ANAND welfare centres came up at Parwanoo, Gurgaon, Dewas, Mulund, Pune and Nashik. Several one-time charitable activities of plantation, blanket distribution, blood donation, construction of drinking water stands, etc., were undertaken.
Professional Development Organization Mode
During the second phase, the focus was on developing the Foundation's professional profile. With a team of qualified social workers, doctors, medical professionals and environmentalists, distinct thrust areas emerged for the Foundation to design its programmes. Following the ANAND philosophy of the Power of Partnerships, SNSF entered into alliances with corporates, associates, government departments and development organisations.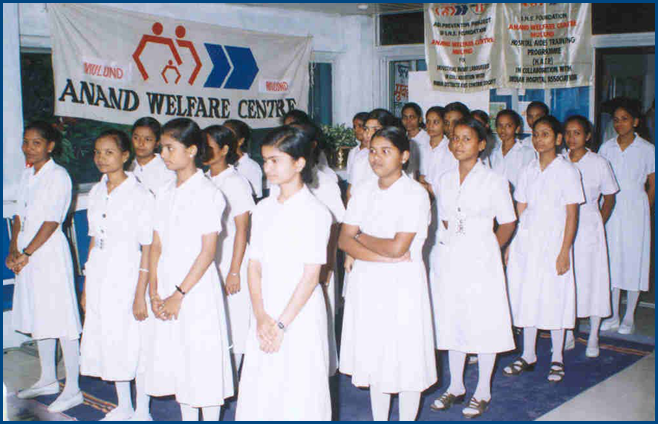 1992:
Two key projects launched –
Project Nayandeep - a tripartite partnership between Venu Eye Hospital, Helpage India and SNSF to treat rural Gurgaon's underprivileged for cataract.
Hospital Assistant's Training Programme - HATP was launched and delivered across Mumbai, Chennai, Jodalli, Nashik, Pune, Gurugram, Parwanoo and Dewas. Over 3000 high school female graduates were trained as paramedics and placed in private hospitals, nursing homes, chemists, gymnasiums, and weight reduction clinics. With more economically viable livelihood training options becoming available today the course functions only at SNSF's Dewas location.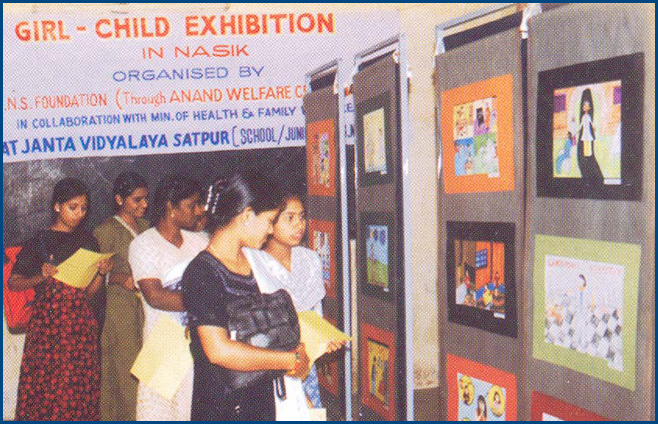 1997
: The first All India Girl Child Painting Exhibition was organised. Subsequently the event became popular and has moved to all ANAND locations.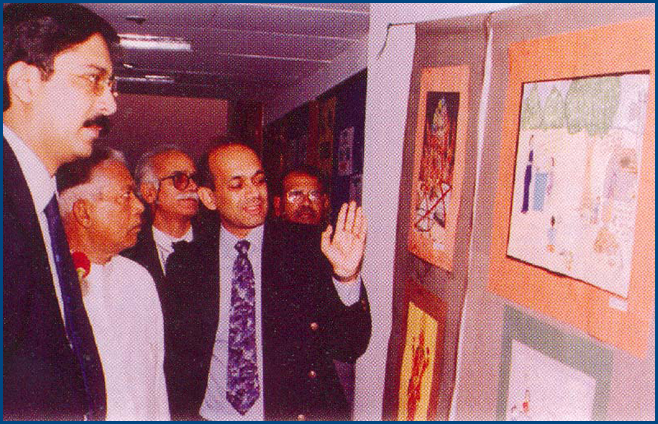 1998 - 1999
: Dr Gabriele Henkel (of the Henkel family) along with H.E. Ambassador of Germany, Dr Heinrich-Dietrich Dieckmann visited the Girl Child Painting Exhibition.
Nischal Foundation re-christened as Sant Nischal Singhji Foundation (SNSF)
In partnership with Ministry of Health and Family Welfare under MOTHER NGO Project, over the next decade SNSF has monitored the service delivery of over 8 community based organisations in Reproductive and Child Health in districts of Shimla, Solan, Sirmour and Kinnaur.
Contracted by International Labour Organization (ILO) to estimate the number of out-of-school children/child labourers in Gurgaon city revealed an alarming figure of 30,000.
Led by Mr. Jagdish Anand, Secretary General, SNSF, the Girl Child Art Exhibition travelled to Heidelberg, Germany at the invitation of Dr. Gabriele Henkel.
Massive efforts were launched for bringing out- of -school children in Gurgaon into the fold of education under Project Parivartan, sponsored mainly by Max India Limited.
Apart from regular classes for out-of-school children in a factory shed made available by Purolator Filters, vocational training programmes in cutting and tailoring, beauty care and computers were also launched.
2000
:
Town Enrichment Action Movement (TEAM), a landmark education project, launched in partnership with United Nations Development Fund and British High Commission in Gurugram.
The first mobile health van received from Henkel, Germany, helping the organisation to clinch project (Reproductive and Child Health) RCH on Wheels from Ministry of Health and Family Welfare in 2001.
Corporate Social Responsibility Activities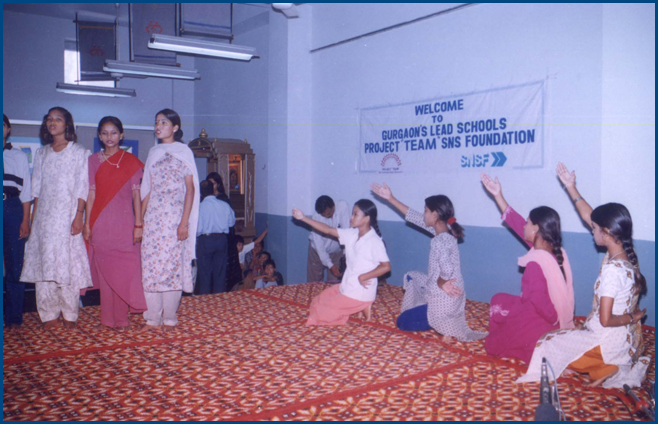 2001:
In continuation of Project TEAM's aim of sensitising different sections of civil society to assume responsibility of education of underprivileged children in Gurugram, SNSF and KPMG launched project Movers and Shakers - an initiative aimed at building solidarity amongst children from the formal and non-formal sections. As a result, the number of schools running bridge school programmes increased from 10 to 25. Project TEAM also hosted Mrs. Nane Annan, wife of the then UN Secretary General, Mr. Kofi Annan.
The second All India Girl Child Art Exhibition was supported by Ministry of Health and Family Welfare. The travelling exhibition took the art work of about 1500 school students to Parwanoo, Dewas, Mumbai, Nashik, Pune, Dharwad and Chennai.
A total of 300 adolescents were exposed to Life-Skills through the Adolescent Girls Project delivered in partnership with Ministry of Health and Family Welfare (MoHFW). The project was delivered in Kaba Kalan and Pratha Panchayat areas in Solan district, Himachal Pradesh and in 5 villages of Gurugram -Daulatabad, Dharampur, Bajghera, Mohammadpur and Babupur.
Mobile health services in Reproductive and Child Health were delivered in partnership with MoHFW. Every year approximately 1.5 lacs residents of urban slums and villages of Gurugram benefitted.
In partnership with Bechtel Foundation (2001-04) Holistic Village Development launched. A total of 389 households of Dharampur were benefitted of the mobile health services, microfinance through women self help groups, vocational training classes and tuition classes for school students introduced under this project. As a result, the local government upgraded the primary school of Dharampur to a middle school and made the Primary Health Centre functional. Similar programmes were launched in the neighbouring villages of Babupur, Daulatabad and Mohammadpur on resident's requests.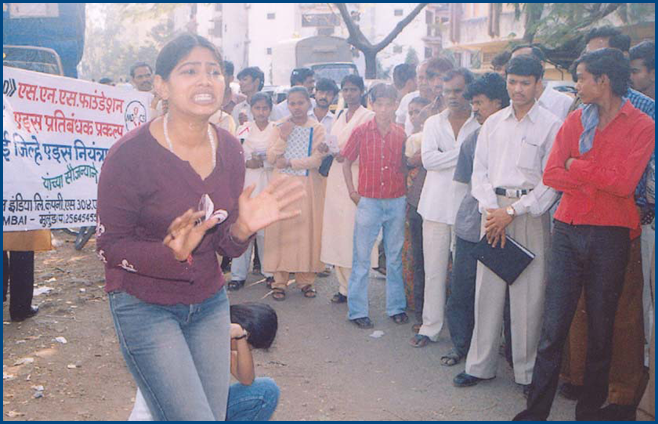 2002 - 2003:
In partnership with Haryana AIDS Control Society (HACS) - Targeted Intervention (TI) Project spread awareness on HIV/AIDS and general health to 2500 migrant labour families in Gurugram. (2001-02)
TEAM project surpassed its target of enrolling 2500 out-of-school children into a system of formal or non-formal education three-folds. Twenty five reputed private schools such as DAV, DPS, Ryan International, Blue Bells, CCA that opted for the bridge programme initiatives continue to deliver till date.
Commencement of a long lasting partnership with Agilent Technologies. Starting with a project for construction of 3 classrooms and washrooms in a Government Girls Senior Secondary School, Jacobpura (Gurugram) a number of projects have been delivered over the last ten years. As a corporate volunteering activity, Agilent volunteers painted the classrooms and washrooms of the school.
Under a partnership with Global Alliance for Workers and Communities 3400 garment sector workers employed in Gap Inc. Vendor factories were educated on issues related to health, ergonomics, safety, HIV/AIDS and labour compliance
Under a 2 year Partnership with UNFPA, Integrated Women Empowerment Development Programme (IWEDP) and Centre for Development of Population Activities (CEDPA)– Project 'MILKE CHALO' was launched. A life skills education module 'Choose a Future ' was also launched in 28 villages of Ateli block (Narnaul district, Haryana), with an approx. population of 10,000. In partnership with National Bank for Agriculture & Rural Development (NABARD) for formation of 200 Self Help Groups (SHGs) in Dharampur block H.P. State
2002-04 - Partnership with Mumbai AIDS Control Society (MDACS) - Targeted Intervention Project with Industrial workforce & labour of unorganised sector
Beginning of partnership with GE Capital's Employee Volunteer Club GE-Elfun, GE businesses viz. GE-Capital (later Genpact) GE-Money, GE-Insurance Solutions, GE-Plastics and GE Volunteer Foundation. Starting with a health checkup of 1200 students of SNSF's Education Programme, Parivartan went on to include several corporate volunteering activities involving 650 GE volunteers for giving a facelift to a school, organising excursion trips for students in SNSF learning centres and also granting backed projects majorly focused on education and health. SNSF's last project with GE was in 2008 -09.
In partnership with Asian Development Bank (2003-04) for the Project on Income Generation and Environment Protection through introduction of organic farming amongst women in the Babupur, Dharampur, Mohammadpur, Bajghera and Daulatabad villages of Gurugram
Under a partnership with United Nations Development Fund for Project on Enabling Environment, 2079 industrial workers attended 126 awareness camps organised in Parwanoo to increase awareness about HIV/AIDS
In partnership with MAMTA Health Institute for Mother and Child: Project PPTCT (Prevention of Parent to Child Transmission of HIV/AIDS) in Dharampur and Nalagarh blocks (Solan district), H.P. State covering 44,000 people (2003-09)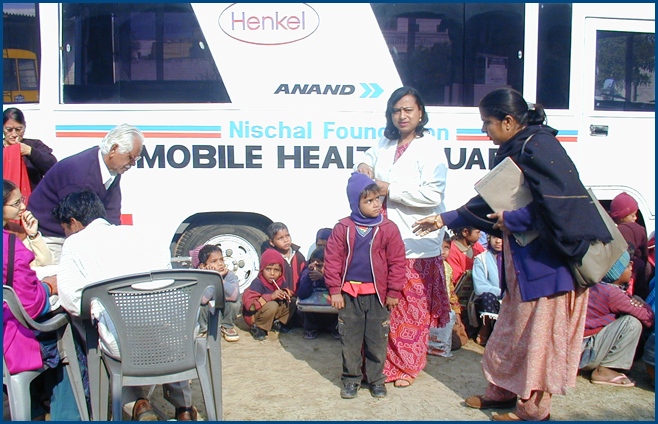 2004:
SNSF receives the second mobile health van from Henkel, Germany.
Begins delivery of mobile health services in 5 villages of Manesar Block covering a population of 30,000 under a 2 year partnership with Perfetti Van Melle
Rural development project under a partnership with Council for Advancement of People's Action & Rural Technology (CAPART) from 2004 to 2010. It involved construction of mini check dams, tanks, wasteland development, vermicomposting, & farmers' training in Pratha Gram Panchayat of District Solan (H.P.).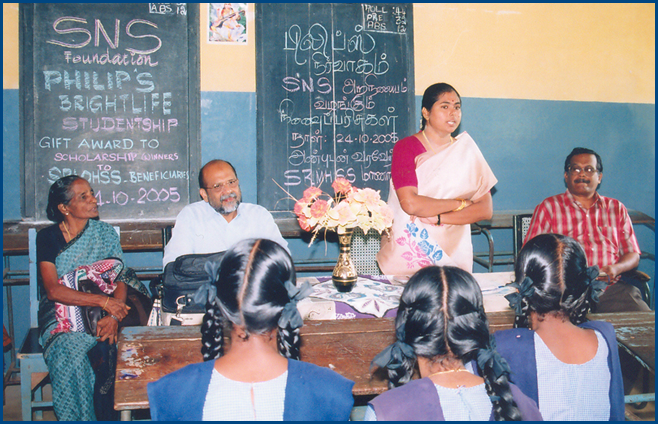 2005:
In partnership with Philips India Lighting for the Philips Brightlife Studentship project enabled students in middle school to complete their schooling (Class X/XII).
Launch of a long lasting partnership with Himachal Pradesh State AIDS Control Society (HPSACS)- Targeted Intervention Project for Core and Non-Core (High-Risk) Groups in Parwanoo, Baddi, Barotiwala and Nalagarh. (H.P. State).
In partnership with District Rural Development Agency, Nashik initiated for formation and bank linkage of 340 Self Help Groups in the tribal blocks of Peth and Trimbakeshwar. The partnership that ended in 2013 brought more than 3500 women into the microfinance fold across 340 groups, with about 50% groups starting small businesses.
A 3-year partnership with Heifer International for Tsunami Rehabilitation in Thiyagavalli Panchayat of Cuddalore District, Tamil Nadu. Joint Initiative for Integrated Vocational and Community Advancement (JIVICA), impacted 500 affected families across 12 villages of Thiyagavalli by sharing livestock, especially with women
International Art Competition on Road Safety and Health, involving school students in SAARC countries, received over 7000 entries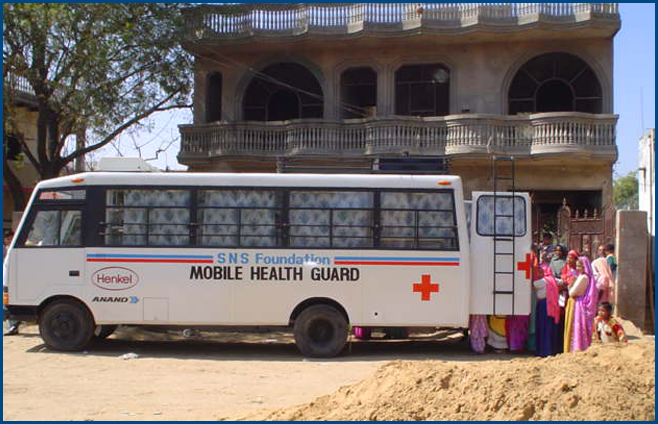 2006:
Third mobile health van, fitted with a dental chair, received from Henkel Germany.
After supporting a single school (Govt. Girls Senior Secondary School, Jacobpura) in Gurugram for over 3 years, the SNSF - Agilent partnership launched QUEST, its first major project.
In partnership with Fluor Corporation commenced building drinking water and sanitary facilities in the Govt. High School in Village Bandhwari, Gurugram. Witnessing the improvement in the lives of their children, mothers of the village formed 5 self-help groups. They have been intra-loaning for the last one decade and engage in small entrepreneurial activities.
A 3-year Partnership (2006-09) with Society for Service to Voluntary Associations (SOSVA) to provide Reproductive & Child Health Services to 15,000 migrant population living in urban village of Dundahera in Gurugram
In partnership with Reliance Haryana SEZ in Jhajjar district (Haryana) and Gurugram district focused on preventive and curative health care in 18 villages of Jhajjhar and 12 villages of Gurugram impacting approx. 1.5 Lac people. Mobile Health services through 2 mobile health vans and 18 static health clinics were deployed for the project
Project Neev for civil repair and whitewashing of a Govt. Primary School in Gurugram was supplemented by a day of corporate volunteering by 60 employees of Hilti India Pvt. Ltd. Under a ACYM CSR initiative, SNSF continues to impact the lives of about 650 children every year in the primary school that was later upgraded to a middle school
In partnership with Godavari Foundation (Mother NGO under Ministry of Health and Family Welfare's Reproductive & Child Health Project) SNSF was the field NGO under Godavari Foundation for delivering reproductive & child health services in Trimbakeshwar block covering a tribal population of 7700. (2006-09)
• Under SSA, 63%, (783 out of a total of 1250) children were admitted to formal schools. Mr. Gordon Brown, Chancellor, Government of Britain, visited SNSF SSA centresCommencing a 2 year (2006 - 08) partnership with Haryana Prathmik Shiksha Pariyojana Parishad as the implementing arm for Sarva Shiksha Abhiyan (SSA) in Gurugram, contracted to initiate and run 25 Alternative Innovative Education (AIE) centers and 25 AIE Vocational Centers reaching out to 1250 children in the age-group 6-14 yrs deprived of schooling.
2007:
Under SSA, 63%, (783 out of a total of 1250) children were admitted to formal schools. Mr. Gordon Brown, Chancellor, Government of Britain, visited SNSF SSA centres
In partnership (2007-08) with Punj Lloyd on Project Life Enrichment Phase I: Comprehensive Workplace Intervention on issues of Health, Ergonomics, Safety, HIV/AIDS awareness and Labour Compliance for 2500 migrant workers and 200 Punj Lloyd staff engaged in Medicity (Medanta) construction site.
Project Ladli launched under partnership with Bain & Co. 70 Bain employees decorated the walls of Govt. Girls Primary School in Gurugram with their creativity as a part of corporate volunteering
Launched in partnership with NABARD on Holistic Village Development (2007-10) in Banasar panchayat covering Seiri, Mahlo and Takrota impacted 84 families and the overall population of 405 persons
2008:
Under SSA, 76%, (953 out of 1250) children were admitted to formal schools.
Phillips Brightlife Project comes to a close: Over 5 years the project awarded studentship to 733 children (with over 50% being girls) at ANAND locations of Gurugram, Chakan, Calcutta and Chennai
Chosen by Gurugram administration as the implementing arm of the National Child Labour Project (NCLP) for the city, SNSF was contracted to initiate and run 26 centres and reached out to 50 out- of- school children in the age-group of 8-14 years . A total of 457 of the 1300 enrolled child labourers were admitted to formal schools under the NCLP education centres.
With expansion of partnership with Punj Lloyd (bringing in International Finance Corporation), Phase II of Life Enrichment project was delivered over two years (2008-10). The focus was on Comprehensive Workplace Interventions on issues of health, ergonomics, safety, HIV/AIDS , workplace living conditions and labour compliance for 9000 migrant workers. Punj Lloyd staff numbering 600 volunteered in the construction sites of IOC refineries at Baroda, Panipat and Haldia.
2009: QUEST develops 28 science labs, 15 mathematics labs and 8 computer labs in 15 schools across Gurugram and Bengaluru over three years with 28 teachers trained in the 3 selected disciplines.
2010: From 2010 to 2014, Project QUEST led to Projects EUREKA focused on developing science libraries in the QUEST schools and SANSKAAR aimed at imparting life skills education to adolescents in QUEST and EUREKA schools of Gurugram.
Delivering on ANAND's Societal Development Commitment
2011:
In a Partnership with H.P. State Ministry of Health and Family Welfare under National Rural Health Mission for linking urban migrant population in Baddi, Barotiwala, Nalagarh and Parwanoo to Government health services, particularly in Reproductive and Child Health that began in 2011, continues till date.
The Partnership with American India Foundation initiated to support skill development initiatives continues to work with handicapped youth and rural women across 6 training centres in Gurugram and Rewari and also helps them find employment.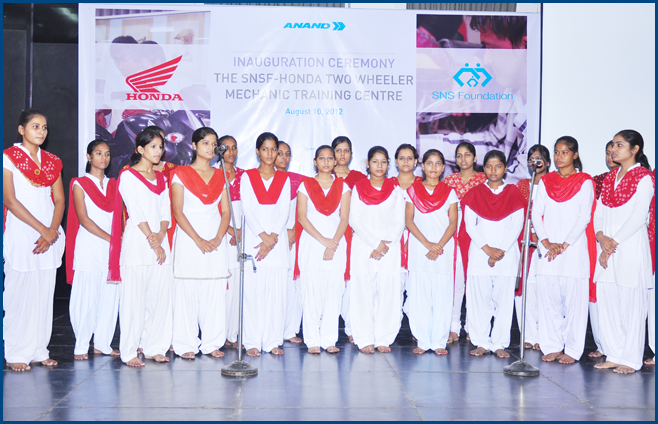 2012:
In partnership with Honda Motorcycle and Scooter India Pvt. Limited - 2 Wheeler Technician Training Centre initiated at SNSF Gurgaon.
In partnership with Schneider Electric Foundation - Electrician Training Centre initiated at SNSF Gurgaon.
2014:
SNSF becomes preferred implementation partner for most ANAND companies bringing their CSR into action after Companies Act 2013 comes into effect.
In partnership with Government schools to improve the quality of instruction and infrastructure remains SNSF's thrust area, followed by skill development and rural development. A total of 19 Government schools come under the SNSF Education programme.
New skill development training centres set up at Jodalli and Talegaon (Chakan) for training factory operators.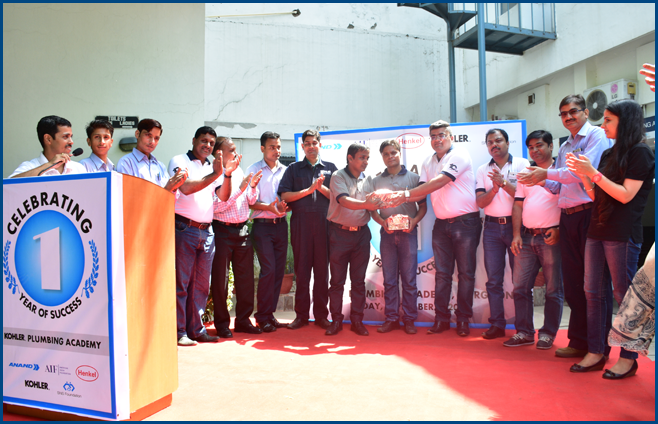 2015:
In partnership with Kohler India - Plumber Training Centre initiated at SNSF Gurgaon supported by Henkel CSR.
The number of schools under SNSF's Education programme portfolio increases from 19 in 2014 to 50 in 2015.
2016:
The number of schools under SNSF's Education programme portfolio increases from 50 in 2015 to 64 in 2016.
MEDHAVI, a scholarship programme for matriculate girls to pursue diploma in mechanical/automobile engineering launched in partnership 4 polytechnics at Jodalli, Nasik and Chakan.
2017:
Number of schools under SNSF's Education programme portfolio increases from 64 in 2016 to 81 in 2017.
MEDHAVI scores a century with 101 awardees and expanded from 3 to 8 locations involving partnership with 9 polytechnics.