CSR & Sustainability
Dana Anand India Private Limited (DAIPL) is a Joint Venture between Dana Holding Corporation, USA, a world leader in Axles, Driveshafts, Structural Sealing and Thermal-management products and ANAND, India. Likewise, DAIPL is a leading supplier of these products in the Indian auto components industry. With an average annual profit of MINR 1000, DAIPL is one of the top three contributors to SNS Foundation (SNSF), under the CSR Act, 2013. In addition to SNSF, DAIPL also routes the implementation of its CSR projects through the Dana Care Foundation (DCF).
With an average annual CSR budget of MINR 33, DAIPL has chosen to impact seven of the 17 United Nations Sustainable Development Goals (UN SDGs) as part of its core CSR mandate.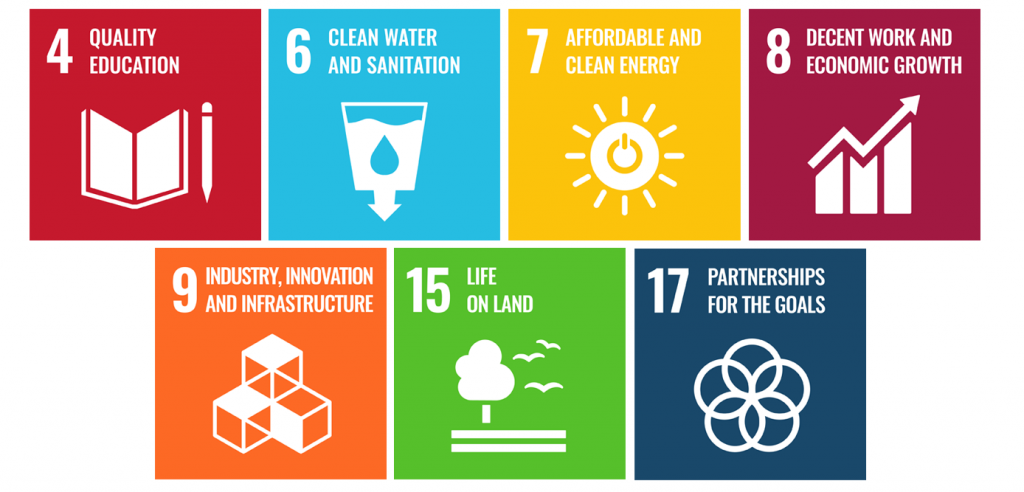 To support its neighbouring communities during the COVID pandemic, the company also chose to contribute to the two more UN SDGs (i) UN SDG 2 Zero Hunger (ii) Good Health and Well Being. Through its implementing bodies SNSF and DCF, it conducted free distribution of dry ration (grocery) kits to those homeless and migrant workers who returned to their native villages from big cities having lost their employment opportunities due to announcement of lockdown. A total of 474 families have been supported with grocery supplies during the lockdown periods of 2020 and 2021.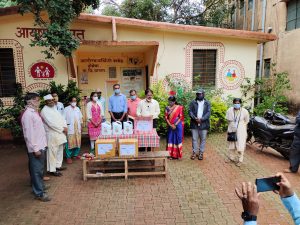 In 2021, with the second wave of the COVID pandemic hitting rural areas of the country in a major way, DAIPL chose to support rural health facilities with masks, face shields, sanitizers, hand gloves and small medical equipment like oximeters.
By structuring its core CSR mandate around seven UN SDGs, DAIPL also aligns itself with the following CSR provisions of Schedule VII of Companies Act 2013:
Eradicating hunger, poverty and malnutrition, promoting health care including preventive health care and sanitation including contribution to the Swachh Bharat Kosh set-up by the Central Government for the promotion of sanitation and making available safe drinking water
Promoting education, including special education and employment enhancing vocation skills especially among children, women, elderly, and the differently abled and livelihood enhancement projects
Promoting gender equality, empowering women, setting up homes and hostels for women and orphans; setting up old age homes, day care centres and such other facilities for senior citizens and measures for reducing inequalities faced by socially and economically backward groups
Ensuring environmental sustainability, ecological balance, protection of flora and fauna, animal welfare, agroforestry, conservation of natural resources and maintaining quality of soil, air and water including contribution to the Clean Ganga Fund setup by the Central Government for rejuvenation of river Ganga;
Contribution to incubators or research and development projects in the field of science, technology, engineering and medicine, funded by the Central Government or State Government or Public Sector Undertaking or any agency of the Central Government or State Government; and (b) Contributions to public funded Universities; Indian Institute of Technology (IITs); National Laboratories and autonomous bodies established under Department of Atomic Energy (DAE); Department of Biotechnology (DBT); Department of Science and Technology (DST); Department of Pharmaceuticals; Ministry of Ayurveda, Yoga and Naturopathy, Unani, Siddha and Homoeopathy (AYUSH); Ministry of Electronics and Information Technology and other bodies, namely Defense Research and Development Organization (DRDO); Indian Council of Agricultural Research (ICAR); Indian Council of Medical Research (ICMR) and Council of Scientific and Industrial Research (CSIR), engaged in conducting research in science, technology, engineering and medicine aimed at promoting SDGs
Rural development projects
With SDGs and CSR provisions under Companies Act 2013 as the guiding principles, the major projects under DAIPL CSR include:
Provide education to 2.3K+ school students from govt. across the locations of Jodhalli, Pantnagar, Satara, Hosur and Manesar who are at risk of dropping out due to prolonged school closure as a result of the COVID-19 pandemic. Limited or no access to equipment needed for online classes coupled with poor internet connectivity among the target population make continuance of quality education in pandemic conditions a distant dream.

Hence to tide over the situation teachers of SNSF adopted different measures when severe lockdown restrictions were not in force.

Conducted community classes i.e. classes are held in open spaces within communities where students reside
Visited students in their homes and extended individual teaching inputs
Since September 2021 schools have largely re-opened and SNSF teachers alongside the govt. school teachers are working hard with students to help them bridge the gaps in their learning levels caused due to prolonged school closure.

Against the set annual target of reaching out to 2.3K school students, 2256 students have been provided teaching inputs so far.

MEDHAVI scholarship programme brings together DAIPL's objectives of employing a large number of women on the shop floor and its corporate responsibility of promoting education and skill development. MEDHAVI, a Hindi word, means a genius, intelligent female. As the name suggests, MEDHAVI is a scholarship programme only for matriculate girls from underprivileged families (annual income less than ₹2 lacs) willing to pursue diploma in mechanical/automobile engineering. Post completion of the diploma, MEDHAVI scholars are supported with job facilitation in manufacturing companies like DAIPL and others. MEDHAVI scholarship programme is operational at DAIPL locations of Manesar, Satara, Hosur and Jodhalli. In 2021, there were a total of 72 MEDHAVI scholars. Presently 56 (of 72) are pursuing their Dip. Engg. across five polytechnics – one each in Manesar, Hosur and Pune (for Satara scholars) and two in Jodhalli.

Of 72, 26 graduated and 22 of 26 have joined jobs – 8 at ANAND Group and 14 at non-ANAND factories. 16 new scholars were inducted during the year.

Support to Development of Infrastructure at Partner Govt. Schools: Development of school infrastructure essential to promote learning like classrooms, laboratories; related to health and hygiene viz. washrooms, drinking water facility and those connected to safety and security for e.g. compound wall etc. have been an integral part of DAIPL CSR for the past seven years. In 2021-22, six school infrastructure development projects were identified for support. They were across three DAIPL locations of Pantnagar, Manesar and Jodhalli.
Ongoing projects of 2020 viz. construction of new washrooms for boys and girls at Zila Parishad School, Degaon and repair of washrooms at Zila Parishad School, Chalkewadi (Satara) were also completed in 2021.
Support to NGO Pragati for Providing Quality Education to Primary Grade Students: Rapid urbanization at the beginning of the 21st century had turned Gurugram into a "Millennium City" with little or no facilities for the children of migrant laborers, construction workers and blue collar employees. The founder members decided to step in and Pragati was born in April 2002 to fulfill the learning dreams of these under-privileged children. Most of these children were either attending school for the first time or had a fractured education due to the migrant nature of their lifestyle. Pragati began its mission of nurturing, guiding and teaching these children of the neighborhood with the hope that they would one day, weave their own dreams. Pragati at present imparts education to 450 children. Based on a verbal directive from the Department of Education, Govt. of Haryana; Pragati operates as a partner in education, out of 3 government buildings in Sushant Lok, Gurgaon. DAIPL CSR has been supporting one of the three schools run by Pragati since 2014. In 2020-21, Pragati made successful transition to both digital classrooms and hybrid learning model by providing its students with tablets and data packs.
Employability Training to Persons with Speech and Hearing Impairment at Gurugram: In 2012, SNSF started working for the skill development and access to jobs for persons with speech and hearing impairment (SHI). The strength and superiority of persons with SHI with respect to others, are their high concentration at work (not distracted by sounds in the environment) and their sense of sight. This realization led to the designing of the course on 'Packaging and Inspection' for them as corresponding jobs do not have any specific requirement of hearing. It began as a 60-day course and was later reduced to 45 days. The technical aspect of the programme was taught through on-the-job training (OJT) at MSMEs and warehouses of e-commerce giants like Amazon, Myntra to name a few. Workplace readiness programme was delivered through classroom sessions by SNSF sign language interpreters.
Pre-COVID, sectors of retail, E-retail, hospitality and manufacturing were among top recruiters of the graduates of this course. Post COVID-19 the programme is being delivered 100% through virtual mode and near 100% employment was taking place in the sector of e-retail. However, with gradual re-opening of the economy hiring in the sectors of manufacturing and hospitality has also made a restart. In 2021, 120 youth with SHI were trained of which 79 found employment in warehouses of Amazon and Flipkart as Warehouse Associates @ monthly salary of ₹13K.
Employability Training to Underprivileged Youth at Jodhalli: The skill development centre opposite DAIPL, Jodhalli was started in October 2014. With its focus on promoting employability skills and job placement among rural youth, the centre was named JIVICA Kendra, meaning Livelihood Centre. JIVICA Kendra offers training in two NSDC approved job role, which are of 90 days' duration.

Machining and Quality Technician affiliated to the Automotive Skill Development Council (ASDC) – has both male and female youth as trainees. The focus is on training youth as entry level operators in factories who can work on lathes, mills and drills and perform certain maintenance activities. Training period includes on-the-job training at SMEs. In 2021, 36 youth graduated of this course, of which 32 are working.
Sewing Machine Operator affiliated to the Apparel Made-Up and Home Furnishing Sector Skill Council (AMHSSC) – so far only female youth have been trained who largely opt for self-employment. The centre has been supplying reusable cloth masks to DAIPL and other ANAND Group companies since 2020. In 2021, 61 youth completed their training in the above NSDC job role. 51 of 61 are engaged in self-employment opportunities operating from their homes.

Facilitate Access to Microfinance for Women and Farmer Groups at Satara and Jodhalli: At both locations of Jodhalli (Karnataka) and Satara (Maharashtra), grassroots effort of SNSF team over 2019 and 2020 has resulted in the formation of people collectives with significant critical mass. The people collectives are women self-help groups (SHGs) formed in partnerships with Karnataka State Rural Livelihood Promotion Society (Sanjeevani) and Maharashtra State Rural Livelihood Mission (UMED) respectively at Jodhalli and Satara. In Jodhalli, the groups are in village Neerasagar and at Satara it is Village Chalkewadi. Chalkewadi also has farmer groups affiliated to the govt. agency Agricultural Technology Management Agency (ATMA). In 2021, SNSF facilitated the women and farmer groups to access microfinance, initiate small enterprises with necessary trainings and also supported existing entrepreneurs to improve current practices.

3 new SHGs formed at Chalkewadi (Satara) in July '21 received their first grant from Bank of Maharashtra (till date total 12 SHGs formed in the village with 120 members)
7/12 & 2/12 SHGs of Chalkewadi have each received loans of ₹ 2.5 lakhs and ₹ 1 lakh respectively
2020 & 2021 combined there are 26 individual businesses of SHG members at Chalkewadi – grocery shop, goatary, poultry, selling of processed cashews
Women SHG members at Chalkewadi have made a self-start to educate themselves
5 SHG members of Village Neerasagar, Jodhalli received for ₹ 20K loan from Karnataka Milk Federation purchasing of cattle. The village has a total of 8 individual businesses initiated with SNSF support

Repair of Rural Health Training Centre (RHTC), Village Dummavad, Jodhalli: Village Dummavad is home to 30% of casual workers working at Dana Anand plant, Jodhalli. Dummavad alone has a population close to 4K and along with six neighboring villages of Jammihal, Dasanur, Devlingikoppa, G. Basavanakoppa, Kanavihonnapur and Kurninkoppa the total population is estimated to be 8K+. The RHTC at Dummavad with its five-member team of doctor, lab technician, nurse, male health worker and pharmacist attends to the health needs of this 8K+ population living across seven different villages. Repair of the RHTC was undertaken so that the team can better serve the health needs of the target population. Presently, with its leaking roof, broken windows, damaged electrical wiring the team faces several security and other hurdles in serving its target population in an optimum manner. Donation of medical supplies, safety gear and medical equipment to the RHTC was also carried out under DAIPL CSR during second wave of COVID-19.
Regeneration of Pond at Village Dasanur, Jodhalli: The pond at Village Dasanur is also a water source for residents of the adjoining village Devlingikoppa. Together the two villages Dasanur and Devlingikoppa are called Jodhalli (halli meaning village in Kannada) and have approx. 700 households. The pond forms one of the two drinking water sources for the cattle of these 700 odd households. The pond is also a source of water for the 8-10 bore wells in the vicinity, two of which are owned by the Gram Panchayat, Dasanur and remaining by individual farmers. The two bore wells owned by the Gram Panchayat further are a source of drinking water for the two villages. At present the limited capacity of the pond does not allow it to hold the total inflow of the water it receives and hence it overflows at its banks. This situation will be corrected with pond regeneration. As a result, all other sources of water dependent on the pond will have their capacities enhanced. It is estimated that the initiative of regeneration through excavation of 9185 cu. m will see the pond store 90 Lakh liters of water.
Development of Model Village (SMART Gram) of Chalkewadi, Satara: The Govt. of Maharashtra's SMART Gram Yojana seeks to transform rural Maharashtra. Villages performing well in a range of areas including cleanliness, health, education, environment, use of technology and renewable energy are rewarded by the State Government at two levels of block and district. With the pursuit of making Chalkewadi too count as a SMART Gram the village was adopted under DAIPL CSR in 2019. The growth of microfinance and entrepreneurial activities in the village in partnership with Maharashtra State Rural Livelihoods Mission has been detailed above under the heading 'Facilitate Access to Microfinance for Women and Farmer Groups at Satara and Jodhalli'. Additionally, the other development activities undertaken in the village by SNSF and DCF over the last 3 years include –

Improvement of village school (Zila Parishad School, Chalkewadi) infrastructure with addition of a classroom, repair of washrooms and incorporation of protection from rain water in the existing structure
Construction of new Aaganwadi to give fillip to quality early childhood care and education, a key point under New Education Policy, 2020
Promotion of Greenery – The project on promotion of greenery through creation of lawns and plantation of various saplings was completed in Village Chalkewadi in Jan '22. Individual lawns were created in 99 of 135 households. A total of 300 saplings were planted of the following varieties: Mahogany, Jamun, Silver Oak, Palm, Tabobia to name a few. Plantation was carried out both at individual households and along the roadside.
Watershed Development– Village Chalkewadi receives very high rainfall but to due to lack of rainwater harvesting structures most of the water is wasted as run-off. Only 20 % cultivable land is under irrigation with 75% families totally dependent on their income from agriculture as their main source of sustenance. The main purpose of undertaking rainwater harvesting through watershed development at Chalkewadi and its hamlet of Jagmin Vasti is to maximize the use of existing water sources and harness the high volume of rainfall received, thereby increase access to water for farmers, usher in the cultivation of cash crops. The whole process will be carried out in phases. The first step was a week-long survey technical assessment carried out by specialist organization Watershed Organization Trust (WOTR). The survey report includes a 5-year plan on the various steps that need to be undertaken for the above stated purpose. Few residents of Chalkewadi and Jagmin after receiving training from WOTR in watershed have formed a watershed development committee to monitor the work. 1000 cu. m. of continuous contour trenching, 3536 cu. m. of farm bunds & 10 loose boulder structures have been completed so far which will store 4.5 Mil litres of water.
Installation of Solar Street Lights– Presence of renewable energy is an important criterion in Chalkewadi being recognized as a SMART Gram. With this objective 50 solar energy powered street lights have been installed in Chalkewadi and its adjoining hamlet of Jagmin Vasti. The impact of this project can be outlined as

302 kWh energy of Maharashtra State Electricity Board will be saved per month which was earlier consumed for street lighting
Gram Panchayat Chalkewadi will be saving ₹ 3K/month, average amount of monthly electricity bill which many a time remained unpaid due to financial constraints plunging the village into darkness (stoppage of electricity connection due to non-payment of bills)
Improved security for residents in evenings from animal attacks