International Women's Day Celebrations
Published On: 2nd August, 2021
SATARA: Several events were held at the upcoming model village of Chalkewadi to celebrate International Women's Day. These included a routine health check-up at the nearest Primary Health Centre in Village Thoseghar; a session on Financial Literacy given by officials from Bank of Maharashtra and UMED-Maharashtra Rural Livelihood Mission (MSRLM); a discussion with NGO Poona Diocesan Society on Legal Rights with focus on prevention of domestic violence; recognition of women entrepreneurs and winners of Clean Home Competition; games and a community lunch. Nearly 40 women, all members of self-help groups, participated in the activities.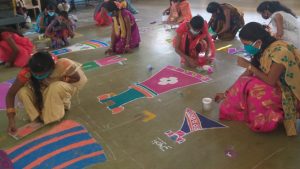 JODHALLI: International Women's Day celebrations were held at SNS Foundation's tailoring training centre. A Rangoli making competition was organised for the students who used the Rangoli style of art to draw dress designs. Female staff from DAIPL (give full name) judged the best patterns and awarded prizes to the winners. Mr. Roshan, Head-HR, DAIPL Jodhalli, gave a motivational talk to all those who attended this function.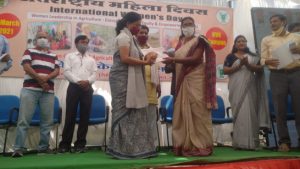 DEWAS: To mark this occasion SNS Foundation Dewas was felicitated by two government organizations, Madhya Pradesh Gramin Bank and Krishi Vigyan Kendra, in recognition of its decade long contribution towards women empowerment specially in the areas of micro-finance and micro-entrepreneurship. The Foundation has also partnered with NABARD on its various projects addressing similar issues. At Krishi Vigyan Kendra, members of the cooperative society facilitated by SNS Foundation displayed their range of home furnishings, handicrafts and reusable masks, which were greatly appreciated by the authorities.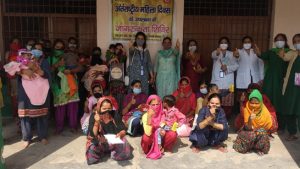 PARWANOO: On this day SNS Foundation Parwanoo organised a general health check-up for expectant mothers at an Aaganwadi Centre in Baddi with the support of the government medical staff. A street play was also held to address general issues facing women, with an emphasis on how gender disparities can be minimised in society. Another street play was also organised at ANAND Municipal Park and Sports Complex, Parwanoo, to sensitize men to the important role women play in society and how necessary it is to accord them the utmost respect. Representatives from the Municipal Council Parwanoo were also present on this occasion.