International Women's Day Celebrations
Published On: 15th April, 2022
DEWAS: The Rural Mart of Tejaswini Mahila Bahu Prayojan Sahkari Samiti was declared the Best Rural Mart in Madhya Pradesh by the National Bank for Agriculture and Rural Development (NABARD) on the occasion of International Women's Day. Representative members of the cooperative society were felicitated by Padma Shri awardee Ms. Durga Vyam. SNS Foundation's Dewas unit, along with Gabriel India, earlier assisted in forming the cooperative body and provided the necessary capacity building for managing the mart. Located in the main market of Dewas city, the mart offers essential market linkages for the sale of products prepared by the cooperative society members, such as handicrafts, soft furnishings, cosmetic jewellery etc.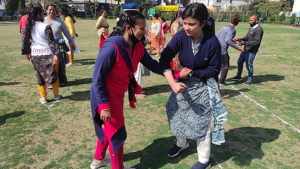 PARWANOO: A self-defence workshop was organised on International Women's Day to empower the women workforce to overcome and handle unsafe situations through self-defence skills. A total of 31 female staff, including female health workers, teachers and vocational instructors attended this workshop. A martial arts expert conducted the session on behalf of the SNS Foundation.





SATARA: A 70-member team of several women self-help groups (SHGs) at Chalkewadi village came forward for voluntary labour (shramdaan) for the village. The women performed the ground-breaking ceremony for the watershed development work and assisted in the digging of the water harvesting structure. Apart from this, for the professional development of the SHG members, a spice-making and legal rights workshop was also organised.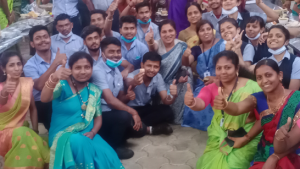 JODHALLI: Self-help group (SHG) members who manage a milk collection centre for Karnataka Milk Federation in Devlingikoppa village with the assistance of the SNS Foundation since 2018, got together on International Women's Day. On this occasion, a session on women's health and gender equality was organised with Aaganwadi and ASHA workers. In another programme, in Neerasagar village, 41 SHG members of one of SNS Foundation's projects in Neerasagar village participated in a cooking competition.